| | |
| --- | --- |
| | Free online digital slr tips, photography tutorials, camera techniques. |





Picasa is one of the premier programs in photo management. If you don't have it yet, you should get it! This page will teach you how to make a few simple corrections in Picasa that will make your pictures look much better. The best thing is that it only takes one or two clicks and not too much thought on your part! Actually, the other best thing (okay so there's a lot of best things) is that the editing is non-destructive which means that the original copy is always kept no matter what you do to your image!


Cropping and Straightening
Picasa makes cropping and straightening your photos easy. When you press the crop button you can crop to a certain size (like 4x6 or 8x10) or you can crop the picture freely. If you want to straighten an image, grid lines will pop up and it'll automatically rotate the image however much you want and crop off the borders.




Summary: Crop and straighten your photos with one click!


Instant Color/Brightness Corrections
Another great thing about Picasa is that you can make instant corrections in the color or brightness of your photos with just one or two clicks.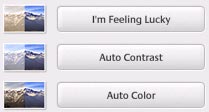 The buttons control either the color, color, or both. I'm Feeling Lucky gives the picture optimal brightness and color. Auto Contrast automatically adjusts the contrast of the picture to the optimal setting, while Auto Color changes the color to the optimal setting. Play around with these and see what works best. Sometimes changing the color or contrast doesn't make a picture look better, so be cautious as well. Below is a picture with I'm Feeling Lucky applied to it (it brightened the picture and got rid of the reddish color cast):




Summary: I'm Feeling Lucky, Auto Contrast, and Auto Color make exposure corrections easy.


Fill Light for Backlit Subjects
Sometimes your background is bright and you forgot to turn on your fill flash so Picasa has an excellent fill lighting system that will brighten your dark subject. Just slide the Fill Light slider until you have the desired amount of lightness to your subject.




Summary: Fill Light allows you to simulate a fill flash.


Getting Rid of Red Eye
Picasa also makes it quite simple to get rid of that annoying red eye you see in flash pictures. Red eye is caused by the reflection off of a person's retina, and the red color is due to blood vessels that run throughout the eye. Just click the red eye button and select a square around each eye, the click accept.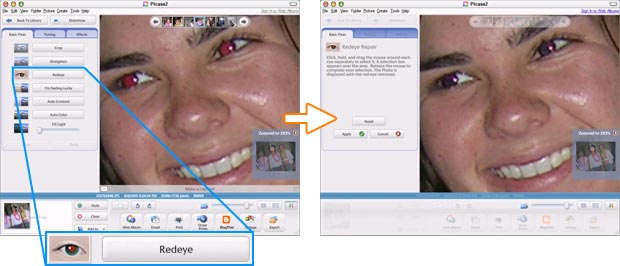 Summary: Red eye is annoying. Picasa lets you get rid of it easily.


Remember, Right Click to Save
When you make your modifications, they are permanent in Picasa only, and you can still undo them later on, but the changes are not saved to your hard drive. Let's say you make changes and you want to upload the picture to Facebook or something. The first thing you have to do before uploading that file is to go to the picture in Picasa, right click on it, and click Save. It will prompt you that a backup of the original file will be made in case you want to go back later and modify that file.

Summary: Right click, Save!


I can't stop singing praises about Picasa, mainly because I have over 40 gigabytes of photos on my hard drive (not including the numerous photos I have on other hard drives) and I use it to browse through my files quickly and easily. This is a program you'll definitely have to check out, and I even created a separate page for it. Learn more about Picasa here.


Point and Shoot | Digital SLR | Post Processing | Buyer's Guide | Links
Back to Main



Digital camera help, tips on digital cameras, and camera techniques. Canon Powershot camera help and Nikon digital camera tips. Canon SLR and Canon camera tutorials. Nikon SLR, Panasonic, Casio, and Pentax digital camera technique.
All content on these pages are Copyright 2007-2011 Yu Jiang Tham. No content from this website may be used or duplicated without express permission from the owner. Please email support@facethelight.com for more information.

FaceTheLight.com is part of The Happywalrus Network - Get Free Stuff and Make Money!