| | |
| --- | --- |
| | Free online digital slr tips, photography tutorials, camera techniques. |





Have you ever lost a photo album that you shot a year ago somewhere on your hard drive? Or maybe you have so many photos that it's just frustrating trying to find the right one. Well, whatever the case, there is one photo management and editing program that constantly tops the charts, and it's the only one that I use for managing my photo collection. I currently also use a Mac with iPhoto, and while iPhoto is great, this program is better. There's NO spyware, NO adware, and best of all, it's free! What is this program? It's called Picasa.


Photo Management, Simplified
I'm sure you've had some experience with other photo programs before whether it is ACDsee, Photoshop, or just Windows photo. The problem with a lot of these photo programs is that they're either too slow, too basic, or they cost money. The best thing about Picasa is that it's fast, simple, and powerful enough for almost anything!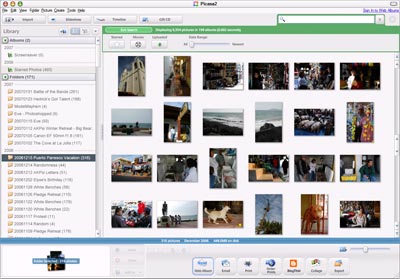 Picasa lets you browse all of your photos in chronological order. It also has the option of searching your entire hard drive for all of those pictures that you may have lost. This is definitely one of the best photo management/editing programs ever.

Summary: Picasa is fast, simple, powerful, and easy to use.


Photo Editing, Simplified
Probably my favorite thing about Picasa is that it is really simple to edit your photos, all it takes is one or two clicks. Best of all it always keeps the original copy, so you can always revert back to it if you ever need to.




Summary: Editing in Picasa is easy.




Download Picasa Here



Point and Shoot | Digital SLR | Post Processing | Buyer's Guide | Links
Back to Main



Digital camera help, tips on digital cameras, and camera techniques. Canon Powershot camera help and Nikon digital camera tips. Canon SLR and Canon camera tutorials. Nikon SLR, Panasonic, Casio, and Pentax digital camera technique.
All content on these pages are Copyright 2007-2011 Yu Jiang Tham. No content from this website may be used or duplicated without express permission from the owner. Please email support@facethelight.com for more information.

FaceTheLight.com is part of The Happywalrus Network - Get Free Stuff and Make Money!