| | |
| --- | --- |
| | Free online digital slr tips, photography tutorials, camera techniques. |





Alright, awesome. It looks like you've made it to the advanced techniques. We will be referring to the Effects tab for all of the topics covered in this tutorial. Most of the Effects in the Effects section pretty much speak for themselves, but there are a few things here and there that you can do that you might not have realized.


A Better Black and White
Sure, you can get a nice black and white picture by just clicking the Black and White effect, but if you have pictures of people, there's a better way to do black and white. In the Effects tab, click on Filtered B&W, click pick color, and then click on the red color at the top. This makes skin tones cleaner and brighter.




The filtered black and white technique substitutes for a color filter placed in front of a lens. It utilizes the red channel, which tends to carry the least blemish information.

Summary: Use the red channel in Filtered B&W for black and white people pictures.


Focal Black and White
Focal B&W is interesting too. For circular objects, you can make the rest of the scene black and white while keeping your subject in color. It's relatively simple to use, just click the icon, click where you want to center the focal point. Size correlates to how big the circle of color will be, while sharpness is how gradual your transition from color to black and white will be.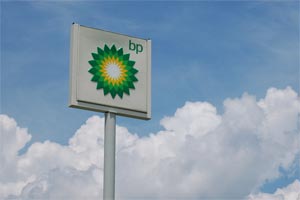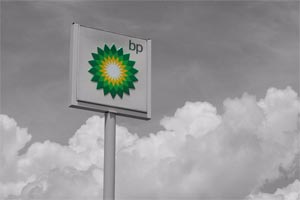 Summary: Focal B&W can be used for having circular subjects in color and the rest of the picture in black and white.


Using the Graduated Tint
Graduated tinting can be useful for changing the mood of a landscape scene. It basically tints the top part of the photo to whatever color you choose across a line that you can set somewhere. For example I decided that I'd like to make the clouds in the following picture more foreboding, so I chose a gray color. Just experiment with different scenes and see what you get!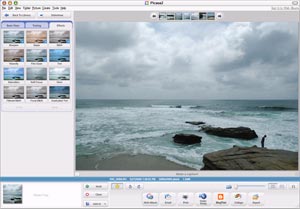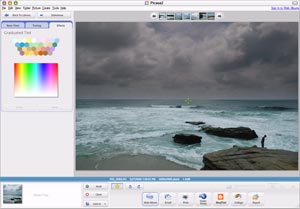 Summary: Experiment with the Graduated Tint and maybe you'll get something you like. No guarantees, though.


Point and Shoot | Digital SLR | Post Processing | Buyer's Guide | Links
Back to Main



Digital camera help, tips on digital cameras, and camera techniques. Canon Powershot camera help and Nikon digital camera tips. Canon SLR and Canon camera tutorials. Nikon SLR, Panasonic, Casio, and Pentax digital camera technique.
All content on these pages are Copyright 2007-2011 Yu Jiang Tham. No content from this website may be used or duplicated without express permission from the owner. Please email support@facethelight.com for more information.

FaceTheLight.com is part of The Happywalrus Network - Get Free Stuff and Make Money!